Case Results
Experienced Texas DWI/DUI Trial Lawyer: Trial Results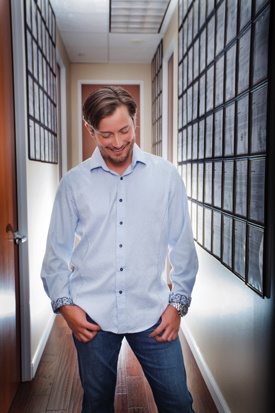 Above is DWI Lawyer Troy Burleson standing in the hallway of Burleson Law Office. Mr. Burleson is surrounded by over 500 "Not Guilty" trial verdicts that he has obtained for his clients since 2006! Very few lawyers in Texas have as many DWI trials per year as Troy Burleson. His tenacity in trial has earned him a reputation as one of the best criminal defense lawyers in Texas.
Texas Criminal Super Lawyer!
Troy Burleson takes pride in his well-earned reputation as a DWI trial Lawyer. His reputation has earned him multiple area and State accolades, including:
2016-2020 Texas SuperLawyer: Texas Monthly Magazine
2010-2015 Texas Rising Star: Texas Monthly Magazine
5 STAR Superb Rating for DWI Defense: AVVO
Client's Choice DWI Lawyer: AVVO
Top 100 National Trial Lawyer: National Trial Lawyers Association
Top 40 Under 40 Trial Lawyer: National Trial Lawyers Magazine
Recognized yearly from 2008-2019 in Collin County for obtaining the most "not Guilty" verdicts.
Below, please find our recent trial results with brief comments on each case.
** "Results depend on the facts of each case, and in no way signify any guarantee or prediction on the outcome of your particular case.
| Year | Result/Case | Comments |
| --- | --- | --- |
| 2007 | NOT GUILTY | Collin County criminal trial. |
| 2007 | NOT GUILTY | Collin County DWI trial. |
| 2007 | NOT GUILTY | Collin County DWI trial. |
| 2007 | NOT GUILTY | Collin County DWI trial. |
| 2007 | NOT GUILTY | Collin County criminal trial. |
| 2007 | NOT GUILTY | Collin County criminal trial. |
| 2007 | NOT GUILTY | Collin County DWI trial. |
| 2007 | NOT GUILTY | Collin County DWI trial. |
| 2007 | NOT GUILTY | Collin County DWI trial. |
| 2007 | NOT GUILTY | Collin County DWI trial. |
| 2007 | NOT GUILTY | Collin County DWI trial. |
| 2007 | NOT GUILTY | Collin County DWI trial. |
| 2007 | NOT GUILTY | DWI BREATH TEST! Collin County DWI trial in which my client gave a breath sample over the legal limit, NOT GUILTY! |
| 2007 | NOT GUILTY | Collin County DWI trial. |
| 2007 | NOT GUILTY | Collin County DWI trial. |
| 2007 | NOT GUILTY | Collin County criminal trial |
| 2007 | NOT GUILTY | Collin County DWI trial. |
| 2007 | NOT GUILTY | Collin County DWI trial. |
| 2007 | NOT GUILTY | Collin County DWI trial. |
| 2008 | NOT GUILTY | Collin County DWI trial. |
| 2008 | NOT GUILTY | Collin County DWI trial. |
| 2008 | NOT GUILTY | Collin County DWI trial. |
| 2008 | NOT GUILTY | Collin County DWI trial. |
| 2008 | NOT GUILTY | Collin County DWI trial. |
| 2008 | NOT GUILTY | Collin County criminal trial. |
| 2008 | NOT GUILTY | Collin County DWI trial. |
| 2008 | NOT GUILTY | DWI BREATH TEST! My client gave a breath test over the legal limit. Dallas County DWI trial, NOT GUILTY! |
| 2008 | NOT GUILTY | Collin County DWI trial. |
| 2008 | NOT GUILTY | DWI BREATH TEST! Client gave a breath test of .189 (over the legal limit of .08). Dallas County DWI trial, NOT GUILTY |
| 2008 | NOT GUILTY | DWI BREATH TEST! Client gave a breath test over the legal limit. Collin County DWI trial, NOT GUILTY |
| 2008 | NOT GUILTY | DWI BREATH TEST! Client gave a breath test over the legal limit. Collin County DWI trial, NOT GUILTY! |
| 2008 | NOT GUILTY | Collin County DWI trial. |
| 2008 | NOT GUILTY | Collin County DWI trial. |
| 2008 | NOT GUILTY | Collin County DWI trial. |
| 2008 | NOT GUILTY | Collin County criminal trial. |
| 2008 | NOT GUILTY | Collin County criminal trial. |
| 2008 | NOT GUILTY | Collin County criminal trial. |
| 2008 | NOT GUILTY | Collin County DWI trial. |
| 2008 | NOT GUILTY | Collin County DWI trial. |
| 2008 | NOT GUILY Collin County DWI trial. | |
| 2008 | NOT GUILTY | Collin County DWI trial. |
| 2008 | NOT GUILTY | Collin County criminal trial. |
| 2008 | NOT GUILTY | DWI Case: One of TWO NOT GUILTY, jury trial verdicts that we got ON THE SAME DAY |
| 2008 | NOT GUILTY | DWI Case: This client hired our office as trial attorneys after his original attorney told him he had no chance to win his case. NOT GUILTY. |
| 2008 | NOT GUILTY | Collin County DWI trial. |
| 2008 | NOT GUILTY | Collin County DWI trial. |
| 2008 | NOT GUILTY | DWI Case: Another client who hired us after his original attorney said he could not win his case. It took less than 5 minutes for a NOT GUILTY verdict. |
| 2008 | NOT GUILTY | Collin County DWI trial. |
| 2008 | NOT GUILTY | Collin County criminal trial. |
| 2008 | NOT GUILTY | Dallas County DWI trial |
| 2008 | NOT GUILTY | DWI BREATH TEST! Client gave a breath test of .113 (over the legal limit of .08). NOT GUILTY |
| 2008 | NOT GUILTY | Collin County DWI trial. |
| 2008 | NOT GUILTY | Collin County DWI trial. |
| 2008 | NOT GUILTY | Collin County DWI trial. |
| 2008 | NOT GUILTY | DWI BREATH TEST: Client gave a breath test of .130 (over the legal limit of .08). NOT GUILTY! |
| 2008 | NOT GUILTY | Denton County DWI trial. |
| 2008 | NOT GUILTY | Collin County DWI trial. |
| 2009 | NOT GUILTY Collin County criminal trial. | |
| 2009 | NOT GUILTY | Collin County DWI trial. |
| 2009 | NOT GUILTY | DWI BREATH TEST. Our client gave a breath test on nearly twice the legal limit. NOT GUILTY! |
| 2009 | NOT GUILTY | BREATH TEST CASE. This was the second of two breath test NOT GUILTY verdict our office obtained in less than 10 days. |
| 2009 | NOT GUILTY | Collin County DWI trial. |
| 2009 | NOT GUILTY | BREATH TEST CASE. Our client gave a breath test over the legal limit. NOT GUILTY! |
| 2009 | NOT GUILTY | Collin County DWI trial. |
| 2009 | NOT GUILTY | Collin County DWI trial. |
| 2009 | NOT GUILTY | Collin County DWI trial. |
| 2009 | NOT GUILTY | Collin County DWI trial. |
| 2009 | NOT GUILTY | DWI case in Denton County Texas. |
| 2009 | NOT GUILTY | DWI BLOOD TEST CASE. This was an intoxication case based on the use of the drug Ambien. Our client crashed into multiple mailboxes and had to be extracted form his car by medical personnel. We successfully argued that the Ambien case our client to perform the act of driving a vehicle involuntarily. Our client was found NOT GUILTY. |
| 2009 | NOT GUILTY | DWI case in Collin County Texas |
| 2009 | NOT GUILTY | Collin County DWI trial. |
| 2009 | NOT GUITY | DWI Case in Dallas County Texas. |
| 2009 | NOT GUILTY | DWI Case in Dallas County Texas. |
| 2009 | NOT GUILTY | Collin County DWI trial. |
| 2009 | NOT GUILTY | Collin County DWI trial. |
| 2009 | NOT GUILTY | Dallas County DWI trial. |
| 2010 | NOT GUILTY | DWI case in Collin County Texas. |
| 2010 | NOT GUILTY | DWI BREATH TEST! Client gave a breath test over the legal limit, NOT GUILTY! |
| 2010 | NOT GUILTY | Collin County DWI trial. |
| 2010 | NOT GUILTY | Denton County DWI trial. |
| 2010 | NOT GUILTY | Denton County DWI trial. |
| 2010 | NOT GUILTY | Collin County DWI trial. |
| 2010 | NOT GUILTY | Collin County DWI trial. |
| 2010 | NOT GUILTY | Collin County DWI trial. |
| 2010 | NOT GUILTY | Collin County DWI trial. |
| 2010 | NOT GUILTY | Collin County DWI trial. |
| 2010 | NOT GUILTY | Collin County DWI trial. |
| 2010 | NOT GUILTY | Collin County DWI trial. |
| 2010 | NOT GUILTY | Collin County DWI trial. |
| 2010 | NOT GUILTY | Collin County DWI trial. |
| 2010 | NOT GUILTY | Collin County DWI trial. |
| 2010 | NOT GUILTY | Denton County DWI trial. |
| 2010 | NOT GUILTY | Collin County DWI trial. |
| 2010 | NOT GUILTY | DWI BREATH TEST CASE! Client gave a breath sample over the legal limit, NOT GUILTY! |
| 2010 | NOT GUILTY | Collin County DWI trial. |
| 2010 | NOT GUILTY | DWI BREATH TEST CASE. We successfully cross-examined the State's breath test expert to raise reasonable doubt as to whether our client was over the legal limit at the time he was driving. |
| 2010 | NOT GUILTY | Dallas County DWI trial. |
| 2010 | NOT GUILTY | DWI BREATH TEST CASE. Our client gave a breath test of 0.14 which is almost twice the legal limit. NOT GUILTY! |
| 2010 | NOT GUILTY | Collin County DWI trial. |
| 2010 | NOT GUILTY | Collin County criminal trial. |
| 2010 | NOT GUILTY | Collin County criminal trial. |
| 2010 | NOT GUILTY | Collin County criminal trial. |
| 2011 | NOT GUILTY | Collin County criminal trial. |
| 2011 | NOT GUILTY | Collin County criminal trial. |
| 2011 | NOT GUILTY | Collin County criminal trial. |
| 2011 | NOT GUILTY | Collin County criminal trial. |
| 2011 | NOT GUILTY | Collin County criminal trial. |
| 2011 | NOT GUILTY | Collin County DWI trial. |
| 2011 | NOT GUILTY | Criminal mischief case in Denton County. |
| 2011 | NOT GUILTY | Collin County DWI trial. |
| 2011 | NOT GUILTY | Collin County DWI trial. |
| 2011 | NOT GUILTY | Dallas County DWI trial. |
| 2011 | NOT GUILTY | Collin County DWI trial. |
| 2011 | NOT GUILTY | Collin County DWI trial. |
| 2011 | NOT GUILTY | DWI BLOD DRAW! Client was forced to give a blood sample due to a blood warrant. The result was a .16 blood/alcohol concentration or twice the legal limit. NOT GUILTY! |
| 2011 | NOT GUILTY | DWI BLOOD DRAW! Another blood warrant case from Collin Count. Client's blood/alcohol score was a .12 which is almost double the legal limit of .08. NOT GUILTY! |
| 2011 | NOT GUILTY | Assault/Family violence case. |
| 2011 | NOT GUILTY | DWI BLOOD DRAW! Client had a blood/alcohol concentration of .14 almost twice the legal limit. NOT GUILTY!!! |
| 2011 | NOT GUILTY | Collin County DWI trial. |
| 2011 | NOT GUILTY | Collin County DWI trial. |
| 2011 | NOT GUILTY | DWI BLOOD DRAW! Dallas County DWI trial in which our client had a blood/alcohol concentration of .12. NOT GUILTY! |
| 2011 | NOT GUILTY | Collin County DWI trial. |
| 2011 | NOT GUILTY | Collin County DWI trial. |
| 2011 | NOT GUILTY | DWI BLOOD DRAW! Case from Collin County. Client was forced to give a blood sample by way of a blood warrant. The result was a .14 blood/alcohol concentration. NOT GUILTY!!! |
| 2011 | NOT GUILTY | Collin County DWI trial. |
| 2011 | NOT GUILTY | Collin County DWI trial. |
| 2011 | NOT GUILTY | DWI BEATH TEST! Client gave a breath test over the legal limit. NOT GUILTY! |
| 2011 | NOT GUILTY | Dallas County DWI trial. |
| 2011 | NOT GUILTY | Collin County DWI trial. |
| 2011 | NOT GUILTY | Collin County DWI trial. |
| 2011 | NOT GUILTY | DWI BREATH TEST. Collin County DWI trial were client gave a breath test of .108 (over the legal limit of .08). |
| 2011 | NOT GUILTY | Collin County Criminal trial. |
| 2011 | NOT GUILTY | Dallas County DWI trial |
| 2011 | NOT GUILTY | Dallas County DWI trial |
| 2012 | NOT GUILTY | Collin County criminal trial. |
| 2012 | NOT GUILTY | Collin County DWI trial. |
| 2012 | NOT GUILTY | Collin County criminal trial. |
| 2012 | NOT GUILTY | Collin County DWI trial. |
| 2012 | NOT GUILTY | Denton County DWI trial. |
| 2012 | NOT GUILTY | Collin County DWI trial. |
| 2012 | NOT GUILTY | DWI BLOOD DRAW. Client was forced to provide a blood sample which was .10 (over the legal limit of .08). Collin County DWI trial NOT GUILTY! |
| 2012 | NOT GUILTY | Collin County DWI trial. |
| 2012 | NOT GUILTY | Collin County DWI trial. |
| 2012 | NOT GUILTY | DWI BREATH TEST! Client gave a breath test of .104 (over the legal limit of .08). Collin county DWI trial NOT GUILTY! |
| 2012 | NOT GUILTY | DWI BLOOD DRAW! Client was forced to give a blood draw that was a .14 (over the legal limit of .08). Dallas County DWI trial NOT GUILTY! |
| 2012 | NOT GUILTY | Denton County DWI trial. |
| 2012 | NOT GUILTY | Collin County DWI trial. |
| 2012 | NOT GUILTY | Collin County criminal trial. |
| 2012 | NOT GUILTY | DWI BLOOD DRAW! Client was forced to give a blood draw that was a .17 (over the legal limit of .08). Collin county DWI trial NOT GUILTY! |
| 2012 | NOT GUILTY | Collin County DWI trial. |
| 2012 | NOT GUILTY | Collin County DWI trail. |
| 2012 | NOT GUILTY | Collin County criminal trial. |
| 2012 | NOT GUILTY | Collin County criminal trial. |
| 2012 | NOT GUILTY | Collin County DWI trial. |
| 2012 | NOT GUILTY | DWI BLOOD DRAW! Client was forced to give a blood draw that was a .13 (over the legal limit of .08). Collin county DWI trial NOT GUILTY! |
| 2012 | NOT GUILTY | DWI BREATH TEST. Collin County DWI trial. |
| 2012 | NOT GUILTY | DWI BLOOD DRAW! Collin County DWI trail. |
| 2012 | NOT GUILTY | DWI BREATH TEST! Client gave a breath test of .12 (over the legal limit of .08.) Collin County DWI trial. |
| 2012 | NOT GUILTY | DWI BREATH TEST! Client gave a breath test of .16 (over the legal limit of .08.) Collin County DWI trial. |
| 2012 | NOT GUILTY | Collin County DWI trial. |
| 2012 | NOT GUILTY | DWI BLOOD DRAW! Client was forced to give a blood draw that was a .15 (over the legal limit of .08). Collin county DWI trial NOT GUILTY! |
| 2012 | NOT GUILTY | Dallas County DWI trial. |
| 2012 | NOT GUILTY | DWI BLOOD DRAW! Client was forced to give a blood draw that was a .17 (over the legal limit of .08). Collin county DWI trial NOT GUILTY! |
| 2012 | NOT GUILTY | Denton County DWI trial. |
| 2012 | NOT GUILTY | Collin County criminal trial. |
| 2012 | NOT GUILTY | Collin County DWI trial. |
| 2012 | NOT GUILTY | .13BREATH TEST DWI trial. Collin County. |
| 2012 | NOT GUILTY | Collin County DWI trial. Client forced to give a blood sample. DWI BLOOD TEST NOT GUILTY. |
| 2012 | NOT GUILTY | Collin County criminal trial. |
| 2012 | NOT GUILTY | Collin County criminal trial. |
| 2012 | NOT GUILTY | Collin County DWI trial. |
| 2012 | NOT GUILTY | Dallas County DWI trial. |
| 2012 | NOT GUILTY | Collin County criminal trial |
| 2012 | NOT GUILTY | Collin County DWI trial |
| 2013 | NOT GUILTY | Collin County DWI trial |
| 2013 | NOT GUILTY | Collin County DWI trial |
| 2013 | NOT GUILTY | Denton County DWI trial |
| 2013 | NOT GUILTY | Collin County DWI trial |
| 2013 | NOT GUILTY | Collin County DWI trial |
| 2013 | NOT GUILTY | Collin County DWI trial |
| 2013 | NOT GUILTY | Collin County criminal trial |
| 2013 | NOT GUILTY | Collin County criminal trial |
| 2013 | NOT GUILTY | Collin County criminal trial |
| 2013 | NOT GUILTY | Collin County DWI trial |
| 2013 | NOT GUILTY | Denton County DWI trail |
| 2013 | NOT GUILTY | Collin County criminal trial |
| 2013 | NOT GUILTY | Collin County criminal trial |
| 2013 | NOT GUILTY | Denton County DWI trial |
| 2013 | NOT GUILTY | .14 BLOOD TEST. Collin County DWI blood test trial. |
| 2013 | NOT GUILTY | .138 BLOOD TEST. Collin County DWI blood test. |
| 2013 | NOT GUILTY | Collin County criminal trial |
| 2013 | NOT GUILTY | Collin County criminal trial |
| 2013 | NOT GUILTY | .12 BLOOD TEST. Collin County .14 blood test DWI trial. |
| 2013 | NOT GUILTY | .10 BLOOD TEST. Collin County blood test DWI trial. |
| 2013 | NOT GUILTY | .19 BLOOD TEST. Dallas County blood test trial. |
| 2013 | NOT GUILTY | .117 BREATH TEST. Collin County breath test DWI trial. |
| 2013 | NOT GUILTY | Collin County criminal trial |
| 2013 | NOT GUILTY | .25 FELONY BLOOD TEST. Collin County Felony blood test trial. |
| 2013 | NOT GUILTY | Collin County DWI trial. |
| 2013 | NOT GUILTY | Collin County criminal trial |
| 2013 | NOT GUILTY | Denton County criminal trial |
| 2013 | NOT GUILTY | .17 BREATH TEST. Collin County breath test DWI trial. |
| 2013 | NOT GUILTY | BREATH TEST! Collin County breath test DWI trial. |
| 2013 | NOT GUILTY | Collin County DWI trial |
| 2013 | NOT GUILTY | Collin County criminal trial |
| 2013 | NOT GUILTY | BLOOD TEST. Collin County blood test DWI trial. |
| 2013 | NOT GUILTY | Collin County criminal trial. |
| 2014 | NOT GUILTY | Collin County criminal trial |
| 2014 | NOT GUILTY | Collin County criminal trial |
| 2014 | NOT GUILTY | .17 BLOOD TEST. Tarrant County blood test DWI trial. |
| 2014 | NOT GUILTY | .262 FELONY BLOOD TEST. Collin County Felony blood test DWI trial |
| 2014 | NOT GUILTY | Collin County DWI trial |
| 2014 | NOT GUILTY | Dallas County DWI trial |
| 2014 | NOT GUILTY | .238 BLOOD TEST. Collin County blood test DWI trial. |
| 2014 | NOT GUILTY | .169 BREATH TEST. Collin County breath test DWI trial. |
| 2014 | NOT GUILTY | Collin county DWI trial |
| 2014 | NOT GUILTY | BLOOD TEST. Collin County blood test DWI trial. |
| 2014 | NOT GUILTY | Denton County DWI trial |
| 2014 | NOT GUILTY | Denton County criminal trial |
| 2014 | NOT GUILTY | .155 FELONY BLOOD TEST. Collin County Felony blood test DWI trial. |
| 2014 | NOT GUILTY | .151 BREATH TEST. Collin County breath test DWI trial. |
| 2014 | NOT GUILTY | .237 BLOOD TEST. Collin County blood test DWI trial. |
| 2014 | NOT GUILTY | Collin Count criminal trial |
| 2014 | NOT GUILTY | Collin County criminal trial |
| 2014 | NOT GUILTY | Collin County Criminal trial |
| 2014 | NOT GUILTY | Collin County criminal trial |
| 2014 | NOT GUILTY | Collin County criminal trial |
| 2014 | NOT GUILTY | Denton County DWI trial |
| 2015 | NOT GUILTY | Collin County criminal trial |
| 2015 | NOT GUILTY | .174 BREATH TEST. Collin County breath test DWI trial. |
| 2015 | NOT GUILTY | Collin County criminal trial |
| 2015 | NOT GUILTY | .144 BLOOD TEST. Collin County blood test DWI trial |
| 2015 | NOT GUILTY | .091 BLOOD TEST. Collin County blood test DWI trial. |
| 2015 | NOT GUILTY | BLOOD TEST. Collin county blood test trial |
| 2015 | NOT GUILTY | BLOOD TEST. Collin County blood test DWI trial |
| 2015 | NOT GUILTY | .098 BREATH TEST. Dallas County breath test DWI trial |
| 2015 | NOT GUILTY | Collin County criminal trial |
| 2015 | NOT GUILTY | BLOOD TEST. Collin County blood test DWI trial |
| 2015 | NOT GUILTY | BLOOD TEST. Collin County blood test trial |
| 2015 | NOT GUILTY | Collin County criminal trial |
| 2015 | NOT GUILTY | .267 BLOOD TEST. Collin County blood test DWI trial |
| 2015 | NOT GUILTY | Collin County criminal trial |
| 2015 | NOT GUILTY | .192 BREATH TEST. Collin County breath test DWI trial |
| 2015 | NOT GUILTY | .115 BREATH TEST. Collin County breath test trial |
| 2015 | NOT GUILTY | .118 BLOOD TEST. Collin County blood test DWI trial |
| 2015 | NOT GUILTY | Collin County criminal trial |
| 2015 | NOT GUILTY | Collin County criminal trial |
| 2016 | NOT GUILTY | .138 BLOOD TEST. Collin County blood test DWI trial |
| 2016 | NOT GUILTY | Collin County criminal trail |
| 2016 | NOT GUILTY | .14 BLOOD TEST. Collin County blood test DWI trial. |
| 2016 | NOT GUILTY | BLOOD TEST. Collin County DWI trial |
| 2016 | NOT GUILTY | Collin county criminal trial |
| 2016 | NOT GUILTY | .091 BREATH TEST. Collin County breath test DWI trial |
| 2016 | NOT GUILTY | Collin County criminal trial |
| 2016 | NOT GUILTY | .14 BREATH TEST. Collin County blood test DWI trial. |
| 2016 | NOT GUILTY | BLOOD TEST. Collin County DWI trial |
| 2016 | NOT GUILTY | .09 BLOOD TEST. Collin County DWI trial |
| 2016 | NOT GUILTY | .083 BLOOD TEST. Collin County DWI trial |
| 2016 | NOT GUILTY | BREATH TEST. Collin County DWI trial |
| 2016 | NOT GUILTY | .204 BLOOD TEST. Collin County DWI trial |
| 2016 | NOT GUILTY | Collin County DWI trial |
| 2016 | NOT GUILTY | .097 BREATH TEST. Collin County DWI trial |
| 2016 | NOT GUILTY | Collin County criminal trial |
| 2016 | NOT GUILTY | .087 BREATH TEST. Collin County DWI trial |
| 2016 | NOT GUILTY | Collin County criminal trial |
| 2016 | NOT GUILTY | .309 BLOOD. Collin County Felony DWI trial |
| 2016 | NOT GUILTY | Collin County criminal trial |
| 2016 | NOT GUILTY | Collin County Criminal trial |
| 2016 | NOT GUILTY | .132 BLOOD TEST. Collin County criminal trial |
| 2016 | NOT GUILTY | .280 BLOOD TEST. Collin County DWI trial |
| 2016 | NOT GUILTY | Collin County criminal trial |
| 2016 | NOT GUILTY | .108 BLOOD TEST. Collin County DWI trial |
| 2017 | NOT GUILTY | .199 BLOOD TEST. Collin County DWI trial |
| 2017 | NOT GUILTY | BREATH TEST. Collin County DWI trial |
| 2017 | NOT GUILTY | BREATH TEST and BLOOD TEST. Collin County DWI trial |
| 2017 | NOT GUILTY | Collin County criminal trial |
| 2017 | NOT GUILTY | Collin County DWI trial |
| 2017 | NOT GUILTY | .202 BLOOD TEST. Collin County Felony DWI trial |
| 2017 | NOT GUILTY | Collin County criminal trial |
| 2017 | NOT GUILTY | Collin County criminal trial |
| 2017 | NOT GUILTY | .132 BLOOD TEST. Collin County DWI trial |
| 2017 | NOT GUILTY | Collin County criminal trial |
| 2017 | NOT GUILTY | Collin County criminal trial |
| 2017 | NOT GUILTY | .181 BLOOD TEST. Collin County DWI trial |
| 2017 | NOT GUILTY | Collin County criminal trial |
| 2017 | NOT GUILTY | .138 BLOOD TEST. Collin County DWI trial |
| 2017 | NOT GUILTY | .121 BREATH TEST. Collin County DWI trial |
| 2017 | NOT GUILTY | .112 BLOOD TEST. Collin County DWI trial |
| 2017 | NOT GUILTY | BLOOD TEST. Collin County DWI trial |
| 2017 | NOT GUILTY | Collin County DWI trial |
| 2017 | NOT GUILTY | Collin County DWI trial |
| 2017 | NOT GUILTY | Collin County criminal trial |
| 2017 | NOT GUILTY | Collin County DWI trial |
| 2017 | NOT GUILTY | .10 BLOOD TEST. Collin County DWI trial |
| 2017 | NOT GUILTY | .17 BLOOD TEST. Collin County DWI trial |
| 2017 | NOT GUILTY | .15 BREATH TEST. Collin County DWI trial |
| 2017 | NOT GUILTY | BLOOD TEST. Collin County DWI trial |
| 2018 | NOT GUILTY | .149 BLOOD TEST. Collin County DWI trial |
| 2018 | NOT GUILTY | Denton County DWI trial |
| 2018 | NOT GUILTY | Denton County DWI trial |
| 2018 | NOT GUILTY | Denton County DWI trial |
| 2018 | NOT GUILTY | Denton County criminal trial |
| 2018 | NOT GUILTY | Collin County criminal trial |
| 2018 | NOT GUILTY | .109 BREATH TEST. Collin County DWI trial |
| 2018 | NOT GUILTY | .124 BLODD TEST. Collin County DWI trial |
| 2018 | NOT GUILTY | Collin County criminal trial |
| 2018 | NOT GUILTY | BLOOD TEST. Collin County DWI trial |
| 2018 | NOT GUILTY | Collin County criminal trial |
| 2018 | NOT GUILTY | Collin County DWI trial |
| 2018 | NOT GUILTY | Collin County DWI trial |
| 2018 | NOT GUILTY | .233 BLOOD TEST. Denton County DWI trial |
| 2018 | NOT GUILTY | Denton County assault trial |
| 2018 | NOT GUILTY | Collin County DWI trial |
| 2018 | NOT GUILTY | Collin County DWI trial |
| 2018 | NOT GUILTY | Collin County criminal trial |
| 2018 | NOT GUILTY | Collin County DWI trial |
| 2018 | NOT GUILTY | Dallas County DWI trial |
| 2018 | NOT GUILTY | .10 BLOOD TEST. Dallas County DWI trial |
| 2018 | NOT GUILTY | Collin County DWI trial |
| 2019 | NOT GUILTY | Collin County DWI trial |
| 2019 | NOT GUILTY | .219 BLOOD TEST. Collin County DWI trial |
| 2019 | NOT GUILTY | .162 BLOOD TEST. Collin County DWI trial |
| 2019 | NOT GUILTY | .197 BLOOD TEST. Collin County DWI trial |
| 2019 | NOT GUILTY | .214 BLOOD TEST. Collin County DWI trial |
| 2019 | NOT GUILTY | Collin County criminal trial |
| 2019 | NOT GUILTY | .105 BLOOD TEST. Collin County DWI trial |
| 2019 | NOT GUILTY | .196 BLOOD TEST. Collin County DWI trial |
| 2019 | NOT GUILTY | Collin County criminal trial |
| 2019 | NOT GUILTY | .081 BLOOD TEST. Collin County DWI trial |
| 2019 | NOT GUILTY | .12 BLOOD TEST. Collin County DWI trial |
| 2019 | NOT GUILTY | Collin County criminal trial |
| 2019 | NOT GUILTY | .125 BLOOD Test. Dallas County DWI trial |
| 2019 | NOT GUILTY | Collin County criminal trial |
| 2019 | NOT GUILTY | .123 BLOOD TEST. Collin County DWI trial |
| 2019 | NOT GUILTY | .108 BREATH TEST. Collin County DWI trial |
| 2019 | NOT GUILTY | .99 BLOOD TEST. Collin County DWI trial |
| 2019 | NOT GUILTY | 127 BLOOD TEST. Collin County DWI trial |
| 2019 | NOT GUILTY | .091 BLOOD TEST. Collin County DWI trial |
| 2019 | NOT GUILTY | Collin County criminal trial |
| 2019 | NOT GUILTY | Collin County criminal trial |
| 2019 | NOT GUILTY | Collin County criminal trial |
| 2019 | NOT GUILTY | Collin County criminal trial |
| 2019 | NOT GUILTY | .133 BLOOD TEST. Collin County DWI trial |
| 2019 | NOT GUILTY | Collin County criminal trial |
| 2019 | NOT GUILTY | Collin County criminal trial |