Domestic Violence & Assault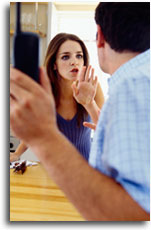 Law enforcement's response to domestic violence and assault charges has changed dramatically in recent years. Previously, police officers could arrive at a home or other location, assess the situation and make a reasonable decision on how to proceed.
Now, law enforcement agencies take an altogether different approach. Often, police department policies mandate that police officers must now always make an arrest in response to charges of domestic violence, even if the alleged victim protests. Consequently, the number of domestic violence charges has skyrocketed and many otherwise innocent people have found themselves under arrest.
It gets worse. Once the accused is charged with domestic violence, the State's "no drop" policy forbids the complaining party from dropping the charges. Instead the State will pick up the charges and proceed to court, regardless of the complaining party's wishes.
If you have been charged with domestic violence, please contact us immediately. Domestic violence and assault charges can harm your reputation, limit your ability to make a living, forbid you from owning hunting weapons and lead to fines and additional jail time. Our firm has helped numerous Texans successfully fight their domestic violence and assault charges.
Experienced Assault and Domestic Violence Defense Attorney
Former assistant district attorney Troy Burleson has provided experienced assault and domestic violence defense to countless clients. If your spouse has unfairly accused you of spousal abuse or battery, or filed a domestic violence protective order, he can work to help you retain your right to see your children and remain in your home. If you have violated a protective order, he offers skilled and experienced counsel. Lastly, if your spouse or other accuser wishes to revoke charges, he can file an affidavit of non-prosecution to persuade the court to reconsider the charges.
Contact Us
If you are facing domestic violence charges, please contact The Law Office of Troy P. Burleson, P.C. to schedule a free initial consultation to discuss your assault and domestic violence defense. We are available for evening and weekend appointments, accept credit cards, offer flexible payment plans and charge affordable rates. Callus at (469) 619-3800. We have offices that are conveniently located in Plano and directly across the street from the County Courts of Law in McKinney.