Drug Possession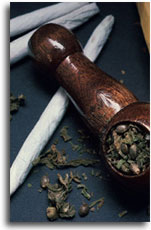 Drug possession charges are among the most common criminal charges in Texas and can present some of the harshest penalties. In fact, people facing drug possession charges are often surprised that their private and seemingly harmless drug-related activities can carry such stiff and sometimes life-altering legal consequences.
For instance, marijuana possession of two ounces or less is a Class B misdemeanor punishable by up to 180 days in jail and a fine of up to$2,000, while marijuana possession of 4 ounces to one pound is considered a felony punishable by anywhere from 180 days to 2 years in jail and a $10,000 fine. Also, the larger the amount of drugs in your possession, the greater the chances that you will also be charged with some degree of drug distribution.
Fortunately, there are often ways to seek dismissal of drug charges or opportunities for reduced sentencing. Before accepting the State's offer and resigning yourself to the high penalty and lifelong consequences of a drug possession conviction, please contact attorney Troy P. Burleson of The Law Office of Troy P. Burleson, P.C.
Experienced Drug Possession and Drug Charges Defense
Our firm has significant experience fighting drug possession charges and may be able to have the charges reduced or dismissed. In the event this proves impossible, we have the skill, experience and network of resources needed to prepare and develop a strong criminal defense.
If you have been falsely accused of drug use, we can employ hair or follicle testing to prove non-use. Moreover, odd exceptions in Texas law only allow for conviction for possession of certain species and types of marijuana; more often than not, marijuana found in Texas does not match this requirement.
People charged with most drug violations are often eligible for deferred adjudication. Under deferred adjudication, the accused can avoid incarceration altogether if he or she complies with the terms of their parole. Additionally, deferred adjudication may prevent a person from automatically having their driver's license suspended as required under Texas Law for a conviction of possession.
Contact Us
Contact us with your drug crime questions, including those regarding possession of drug paraphernalia and/or such controlled substances as prescription drugs, marijuana, cocaine and ecstasy. We offer free initial consultations, are available for evening and weekend appointments, accept credit cards, offer flexible payment plans and charge affordable rates. Call us at (469) 619-3800. We have offices that are conveniently located in Plano and directly across the street from the County Courts of Law in McKinney.